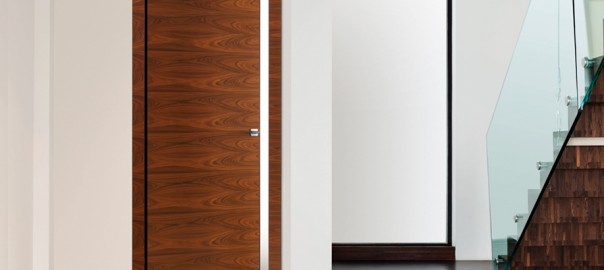 Styles, colours and finishes are three essential parameters when we have to choose the interior doors of our house, office or any other environment.
The essential premise you shouldn't forget is the importance of doors in the customization of environments and in their functionality. Not only the interior doors link one room to another and delimit spaces, but they can also be characterized by their role as true design elements. For these reasons, at the moment of choice it will be very important to assess both their aesthetics and performance.
Interior doors types currently available are numerous, so as to satisfy any requirement of furniture. From materials, to locking systems, styles, colours, shapes, finishes and dimensions, they have the same great personality as sofas, tables and design chairs. First of all, you will therefore assess all the look and space requirements, considering all the functions that the interior doors will perform:
Separation and connection of rooms
Delimitation of rooms
Reduction of noise pollution
Privacy requirement
Aesthetics
It is important to know and distinguish the various types of interior doors, in order to choose the most appropriate solution. We could enclose the interior doors in three main categories:
Interior swing doors: they are the most traditional type, generally composed of one or two doors opening through the action of the hinges. If properly realised, they are characterized by a good thermal and acoustic insulation and are generally in glass or wood, but also plastic or metal. The standard swing door is usually in solid wood, wooden strips and honeycomb. These interior doors can have any kind of finishes: natural, lacquered or laminate.
Interior sliding doors: they have the huge advantage to use the available space in a more efficient and rational way, and they are therefore particularly suitable for not too large environments. These interior doors slide inside the subframe which, in turn, can be recessed in the wall or limited to rails that run along the wall. There are also sliding doors with two leaves, which can be generally opened on two walls. Interior doors which disappear inside the wall have a subframe which can be coated with plaster or with a plasterboard panel: the wall remains bare and free, giving the impression of a larger available space.
Interior folding doors: they are composed of two or more panels which, at the time of opening, overlap as if they were an accordion. The overall dimensions of the door are in this way effectively halved and, in this way, this is the best door for environments with not too large surfaces. One of the advantages of folding and also sliding doors is, especially when they are made of glass, or glass and other materials (wood, aluminium, resin), to intelligently use the available space ensuring a bright airy effect.
There are of course many other parameters by which to choose the interior doors for your home or office, such as materials, shapes, colours, finishes and sizes. However, an initial assessment that allows us to identify the most suitable solution is the starting point for all the following ones. assessments.
What type of door is for you?