---
Doors locking systems
---
Info and Estimates

The doors locking systems are the essential element for the proper functioning of a door and its maximum performance. For this reason it is essential that their quality is the same as that of the materials of the same door, in order to ensure durability and easy care.The doors locking systems are made up of a series of elements, which can be summarized as follows:
Locks: they are the real frame security of the door, they are crucial for its resistance to intrusion and, if of high quality, they guarantee silence, solidity and durability.
Cylinders: they are structural elements designed to ensure the functionality of the locking system of a door, which can have very different design characteristics.
Door closers: they are essential especially in cases where the door is also used by people with limited mobility.
Locking bolts: this is a specific type of locking system with a long tradition.
It is characterized by a simple rotational functioning which opens or closes the element.
Pivot hinges: they are generally fixed to the frame, and applied on strap hinges.
Sliding systems: this system allows to open and close doors which can move flush to wall or disappear within it.
Counterframe: it is the structure housing the so-called "disappearing" pocket doors.
It is also known by the name of sub frame.
Fixed frame: it is the backbone of the modern door and it is made up of vertical profiles called jambs and by a horizontal element placed at the top of the frame, called crosspiece.
Hinges: they connect the door leaf to the frame so as to determine the opening direction. They may be concealed or visible, and in some cases reversible, that is to say able to determine the opening direction also at the time of the installation of the door. Finally, the new generation of hinges can be adjustable and able to adjust the door both in height and in depth and width.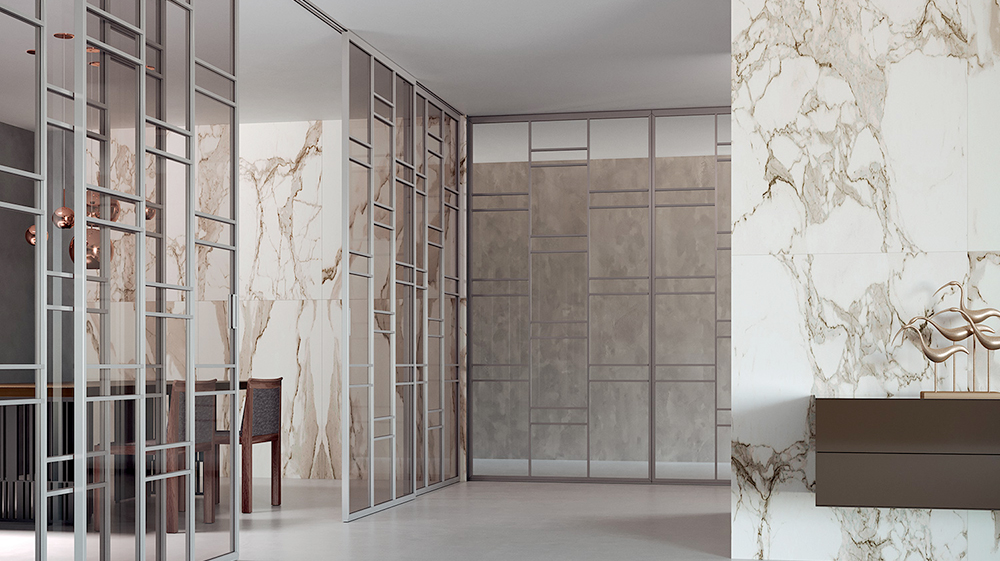 Doors locking systems: Res Italia prestige
Res Italia has been the leader in the design and manufacture of the best doors and systems, since 1962. The quality of its realizations and their prestigious design have so far made Res Italia an international leader in its field of competence, that's why you can find Res Italia and its products at the prestigious Estée Lauder Cosmetics offices in New York, the Palais Liegi in Rome, the Belstaff headquarters in Mogliano Veneto, the Hotel Conservatorium of Amsterdam, the Giada luxury fashion brand offices in China.
Contact Res Italia for an advice without any obligation on your doors for office, houses, shops or representative locations: discover why this Made in Italy leader brand is so appreciated worldwide.